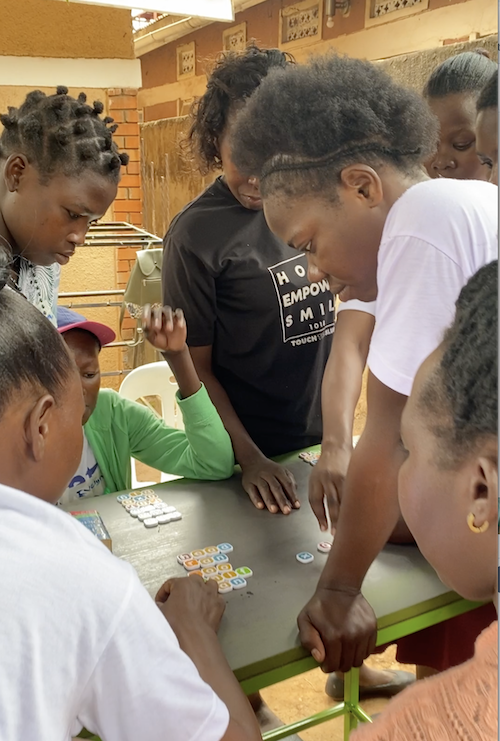 While we have a fair amount of holidays here in the US, they have a LOT of them in Uganda. All the Ugandan ones, and then they celebrate (take a day off) for a lot of the International ones, like International Day of the Child and Women's Day.
But the girls at Touch the Slum don't want a holiday — they want to learn! During our term break last month, most of the girls in the Literacy class showed up anyway. Teacher Martha kept them busy with fun things like Bananagrams (above), art, creating clay pots, movies in English, and more. And yes, we fed them lunch!
Let's be honest… Most of us in the West never once considered showing up at school on a holiday! We were much more likely to play hooky, right?
When something is scarce, we value it.
For the teen moms and teen girls in Touch the Slum's programs, they spent their childhoods watching brothers and neighbors go to school. Whenever their family had a bit of extra money that could fund school fees, it went to any male relative first – and to the girls almost never.
They understand the value and the opportunity that Touch the Slum and Skills for Life gives them.
They understand that we are working for a culture shift, not just a quick-fix solution to the many problems that teen girls face in the slum.
And they are beyond grateful for the opportunity to shine! (And shine they do!)
We couldn't do it without you! Your support – financial and by words of encouragement – are the HOW of how we do it. We can't thank you enough!
Webele nyo!
Jennings
PS We've now funded 163 projects on DonorSee and are coming up to our 1-year anniversary on the platform. Amazing! Every month we supply 250 girls with free sanitary pads, which they otherwise can't afford. Our current project needs about $300 to be funded – we'd love your help!