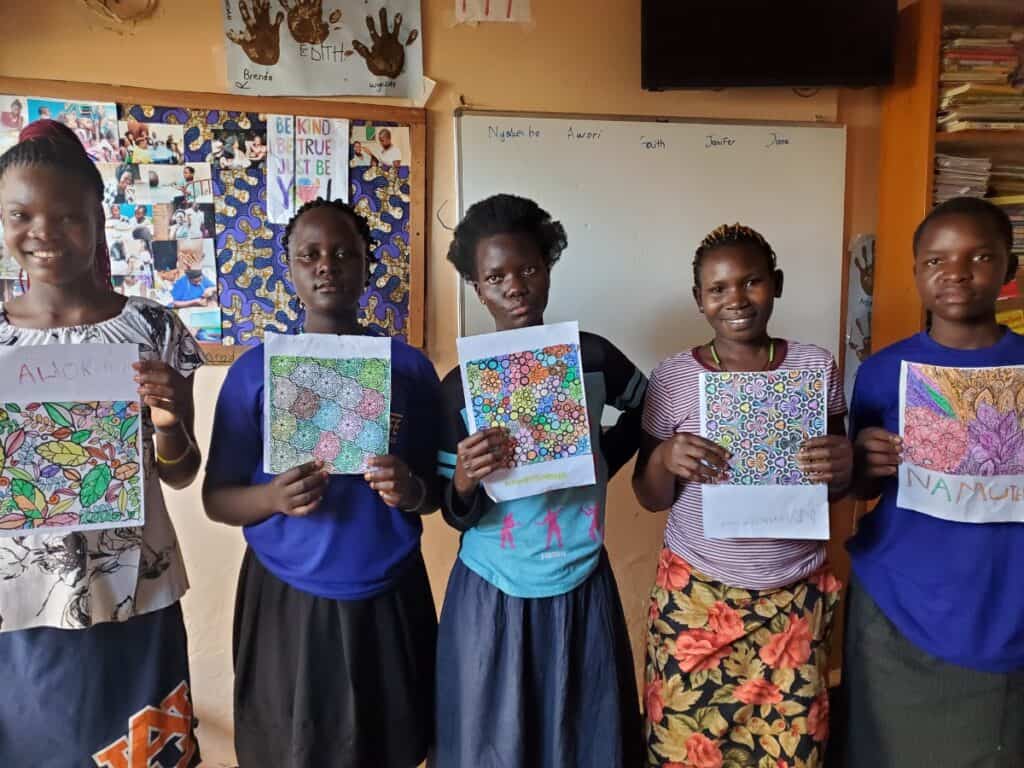 Y'all, this photo made me laugh when I saw it on the bigger screen. Jennifer, in the middle, is that one kid… The one making a goofy face or holding up 2 finger-antennae behind someone's head or just overall looking fed up with the process. Raise your hand if you've ever sent or received a Christmas card with "that one kid" in it! (I really need emojis right now!)
ANYWAY, these are some of the girls from the current Literacy class. Now, you may be wondering what coloring has to do with Literacy, aside from writing their names on the paper.
Let's call it "anti-traditional" education, and I'll illustrate it with a story.
In 2014 we did a week-long basketball camp for 40 kids in the slum. We had some great ideas, one of which was to get a long roll of white paper, tack it to the wall in a continuous piece, and let each child write or draw whatever they wanted in a space of their own. We had markers and crayons and finger paints and were really excited to see how it came out.
How it came out was 40 individual spaces that all looked almost identical to each other… Each one had an airplane, a teacup, a house, and a tree. Each airplane was drawn in an identical style. Same with the other subjects. IDENTICAL. The only differences were colors or medium or finesse due to age.
Frankly, it was really depressing. These kids didn't all go to the same school. They weren't related. They shouldn't be drawing the same four things. Yet there it was.
That sums up Ugandan education: rote learning, with no creativity or individuality allowed.
But not at Touch the Slum!
We believe in creativity. We believe in problem-solving. We believe that each girl is an individual and should be able to express herself. Our girls actually have an advantage over girls who have been to traditional schools, because they were never indoctrinated into the cookie-cutter sameness that their peers were.
Launching the Literacy program this year has been one of the highlights of our work in Namuwongo. The joy it brings to these girls when they find out they can learn, they aren't stupid, they do have value… It's truly amazing.
Blessings,
Jennings
PS We have a project up for supplies for the Literacy class. We'd love your support to keep them going full steam ahead for the duration! Click below!
PSS You can still get your free ticket to see me speak tomorrow at the Expat Money Summit!