THIS WEEK WE LAUNCHED THE GATE – FOR A REALLY GOOD REASON!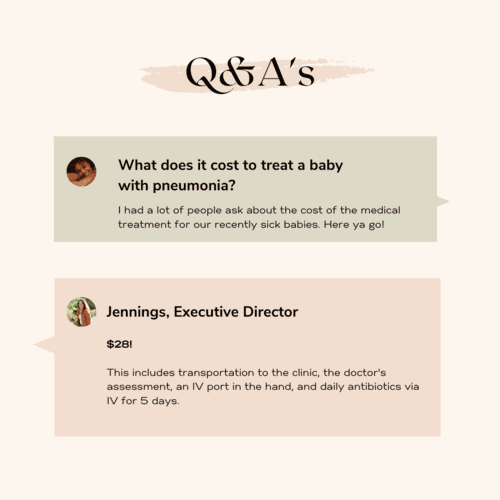 Uganda is a developing country with the world's youngest population. Unemployment numbers are a joke* — even young people with university degrees can't find paying jobs and usually "intern" (work for free, even for the government) for years before possibly getting a paying job.
In our programs, we are dealing with the extreme poor, the uneducated, the orphaned or abandoned, the homeless. Unemployment, other than informal self-employment, is literally 100%.
So outside of our regular budget, we have regular problems come up, like three babies in two weeks getting pneumonia. Transport to the clinic or hospital, medical treatment, daily transport for IV antibiotics… All that adds up. And while it's very small compared to US standards, our budget is pretty small too!
By joining our passionate supporters together in the Gate, WE get a stable revenue flow, and YOU get to really see the IMPACT of your donations on a monthly basis. We want you to know exactly what your money is doing, who it is benefitting, and how we go about our work.
By joining the Gate, you get:
Monthly updates with behind the scenes information, stories and photos
Quarterly LIVE video meetings with our US and UG staff where you can ask any questions and get to know us
For the first 100 members, you'll become part of our Founding SUUBI ALLIANCE with extra perks
Nothing changes on your end — you choose your monthly donation and set it up on Donorbox. But you get all the access above so you get to know the people whose lives you are changing and be part of our life-changing community!
JOIN THESE SMILING FACES!
CHECK OUT THIS VIDEO WITH ALL OUR PROGRAMS – WE'D LOVE TO HAVE YOU JOIN US IN CHANGING LIVES TODAY!
*Unemployment numbers for Uganda are all over the place, depending on who is reporting it. Government numbers can be as low as 1.84% (an absolute farce which anyone who has ever been to Uganda knows), to as high as 80% – a much more likely number. The truth is, MANY millions of Uganda's 43 million population have no employment, no way to gain employment, and no safety net to help them.