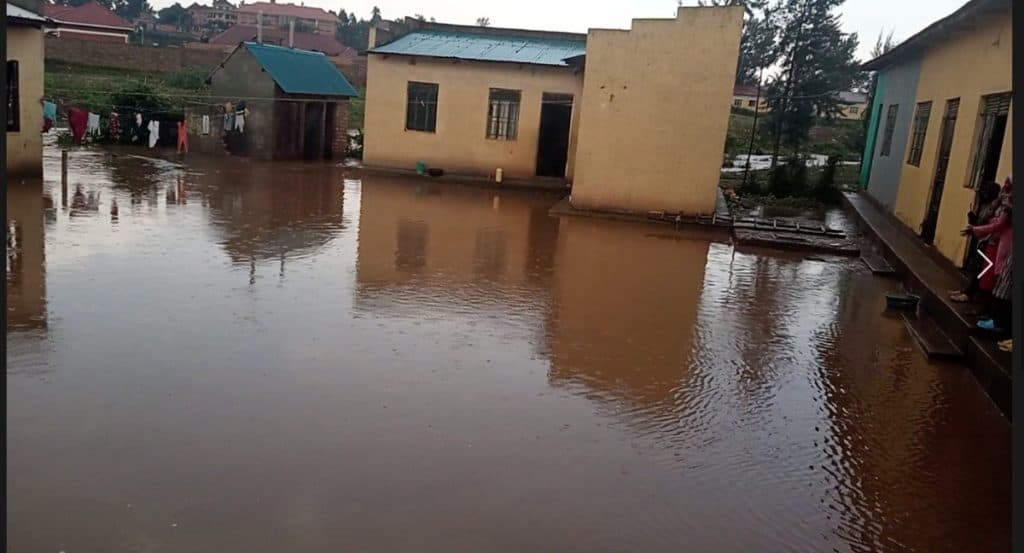 I've spent a lot of time with my Ugandan friends trying to explain the concept of seasons. (I haven't been that successful!)
In Uganda, there are just rainy and dry seasons – two of each per year. We are coming to the last few weeks (we hope!) of this fall's rainy season, which has been brutal.
At least 24 were killed in flooding in Eastern Uganda in August
Thousands were displaced by flooding and landslides in Western Uganda in September
Our own programs have been affected, as you can see from the picture above of Hopeland Primary School in Mbarara. Wells of Hope and the surrounding village in Rwakobo have had even more significant flooding. The work on the farmhouse was delayed significantly by rains.
You may not know it, but Kampala is about 3000 feet above sea level. I've only had one trip in 14 where I was hot — often I'm wearing jeans and a sweatshirt! And few windows have glass in them so the damp cold is hard to get away from when it never seems to stop raining.
We've had several girls struggle to control their asthma during this time, and about three times the usual number of respiratory illnesses. We've even had some cases of dysentery due to all the contaminated water girls have to walk through to get to class.
So… Did you know that you can sign up as a monthly sponsor of our Haven Clinic? It's true! We are at 40% right now. There's no minimum to be a sponsor, and it really helps us keep all our teen moms and teen girls healthy by paying Sherry's salary and restocking the medications we use daily.
Webele nyo!
Jennings
PS Bonus picture of Sylvia with her new baby boy (no name as of yet) coming home from the hospital to lots of love yesterday!