Turn on the tap. What happens?
Clean water comes pouring out, ready for drinking, washing your hands, filling a pot, doing the laundry.
We really don't even think about it.
But for the villagers in Rwakobo, there is no tap. There are no pipes. No wells. No clean water.
This is a "seasonal well." It, and the others used by the 2,700 villagers, are natural or man-made depressions in the ground, filled by rainwater. Trenches dug in red dirt send more water into the stagnant pond.
Animals that live inside the Lake Mburo National Park use these "wells" (shallow ponds) also. They drink from them, cool off in them, use them to sneak up on prey. They defecate in and around them, and along the trenches where the rainwater flows.
The wells aren't even very close to the village, meaning that they walk — mostly children — a mile or more to fill one or two jerry cans with filthy water, then return to their homes. The water is used for everything we use water for: cooking, washing clothes, sponge bathing, drinking.
t's no wonder that water and feces born diseases that cause diarrhea are rampant.
DIARRHEA IS THE LEADING CAUSE OF DEATH OF CHILDREN UNDER 5 IN UGANDA…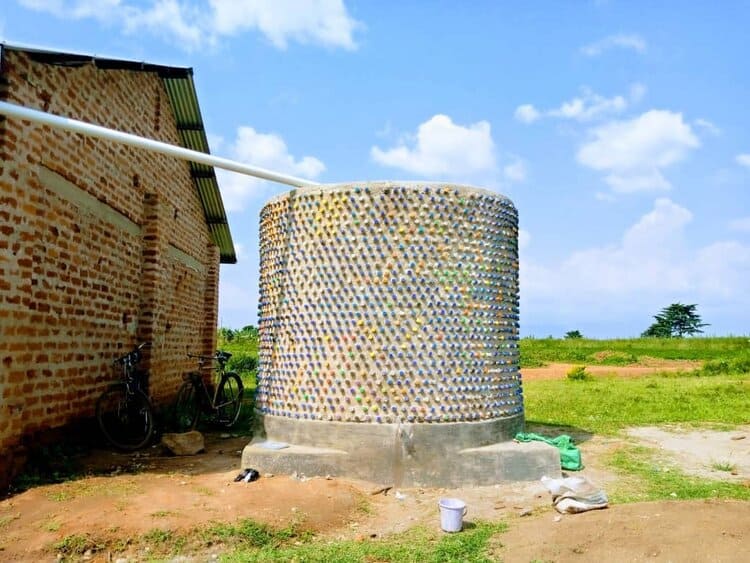 WHAT ARE WE DOING TO HELP?
While our ultimate goal is to be able to have deep water wells to serve the village, our first step is to install Eco-Brick tanks. We have been able to secure funds for a 7,000 liter tank for the Wells of Hope School (thanks to a generous donation!), which will allow the children to have clean water for washing and cooking, and drinking with purification techniques. The children are being taught basic hygiene at the same time, so that hand washing with soap becomes second nature.
WE WANT TO FUND AT LEAST ONE 10,000 LITER TANK FOR THE VILLAGE IN FEBRUARY!
We are partnering with Equal Aqua Uganda, a UK/UG partnership, to build these tanks. Equal Aqua has been working in Eastern Uganda since its founding last year, but have agreed to travel to Rwakobo Village for this project. We would love to take advantage of this by installing more than one tank!
Eco-bricks are made by recycling plastic drink bottles, packing them with sand, and re-capping them to form a solid brick. They are then cemented into the structure, creating a stable tank to hold much more water than a cement-only tank would hold. The tank is filled with rainwater from the roof, a top keeps the tank clean, and a spigot at the bottom allows for the water to be drawn off and used.
A 7,000 LITER TANK COSTS $735, AND A 10,000 LITER TANK COSTS $1150
WE CAN DO IT! With your help, we can raise the money to kick off the WASH project in Rwakobo Village.
WASH = WATER ACCESS, SANITATION, & HYGIENE
We can save lives, and IMPROVE the lives of these extremely impoverished people.