At Ten Eighteen, we have always promised to use your funds in the most transformational ways possible. And WOW, did we outdo ourselves in January!
The Literacy Class launched, with 20 girls who are eager (desperate!) to learn basic reading, writing, English and math. Our own teen mom Gloria, from the Ross and now Suubi House, is the most dedicated student there. (She's on the left with her son Imran.)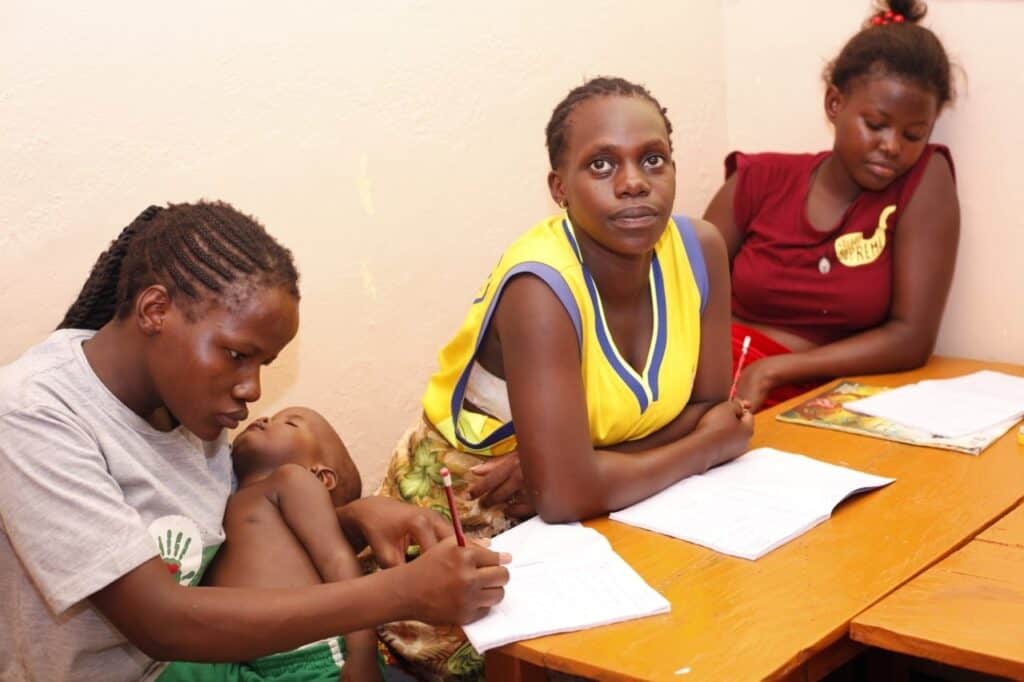 Skills for Life Tailoring and Hairdressing courses did their 2-week-split, dividing the more advanced students into the afternoon classes and the ones needing more help into the morning classes. Our goal is COMPENTENCY, so we want to make sure that the girls who need more time (usually because they are illiterate and don't speak English) get everything they need.
The daycare is now open, and our staff is already exhausted! hahaha Having done daycare in my home for a year, many many years ago, I warned them that it is a LOT of work. They now believe me! But it's going really well, and it is SO helpful for the moms who are in class to be able to leave their children for a couple of hours to fully concentrate and learn.
AND THAT'S NOT ALL!
Yesterday, we hired a full-time nurse. Today, we put in the order for the clinic furniture. By the end of the week, we will have stocked medication and supplies, and we should have a fully functioning and staffed clinic by Monday. We had 4 medical issues in January alone, so this will significantly help us in prevention, early treatment, and emergency care.
Sharon graduated from the Suubi House and moved with Patience to her first home of her own. She is working in a salon and told Ronald yesterday she has a new prospect for a better job. Shadia also graduated from the Suubi program and is in her own place, too! Both girls bring their kids to the daycare while they are working, so we see them — they're doing great, and we're so proud of them!
UPDATES
Bob Ditty had to postpone his photoshoot due to illness. We'll let you know when that will be once we know.
The Advanced Tailoring class will be up and running by the end of February (probably sooner). While she waits, Ross/Suubi House resident Jenifer is doing an internship at a local tailoring shop.
We are now feeding over 60 people a day at the Ross House compound! We had to get a second stove!
Schools in Uganda FINALLY went back in session after 22 months. Wells of Hope in Rwakobo Village has 300 students! We provide food for Wells as well as Hopeland (150 students).
THANK YOU for your support and encouragement! We couldn't do this without you! To become a monthly supporter or make a one-time donation, click the button. 100% goes to the programs!