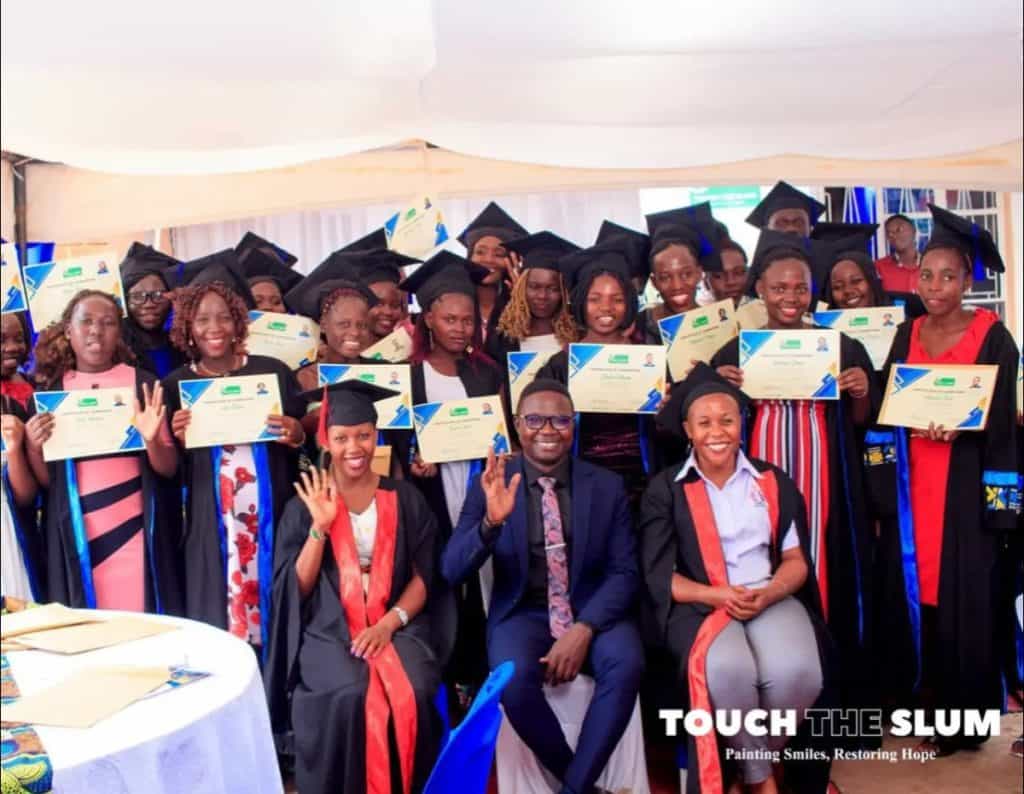 WOW!
October has been amazing!
Here's what going on at Touch the Slum (and Wells of Hope Primary School) already this month:
GRADUATION
Our biggest-ever graduation happened on Saturday and it was amazing! I'll be making a video to put on our YouTube channel this week, but for now, you can see the joy in the girls' faces above as 35 graduated in Literacy, Tailoring, Advanced Tailoring, and Hairdressing. We had quite the fashion show thanks to the Advanced Tailoring girls — you'll have to wait for the video or check out the Reel I posted on Sunday on Instagram.
The project for graduation funded 100% on Sunday, which was wonderful! We ended up having to rent a tent because of the weather, and the regular costs add up, too. So we're really grateful for the support!
WEBSITE
HUGE thanks go out to Board member Mikkel Thorup and his Project Manager Dom Alves (who lives in Brazil!) for a complete re-do of our website. We'd been on SquareSpace for a long time because, well, it's easy! But it lacked functionality, and we were ready to be able to do some new things with it. It launched this past weekend, and we're SUPER happy and grateful — check it out and let us know what you think!
WELLS OF HOPE PRIMARY
Some of you will remember from my last visit that Wells of Hope had gotten a loan to build a second brick building, but didn't have the money for the concrete floors, blackboards, windows or desks. We've been chipping away at that on DonorSee, funding the blackboards, and going one class at a time for desks and windows.
A local donor funded the cement floors, which was amazing. Then last week, we got the first 5 windows put in. That so inspired someone that Gideon knew that they donated the remaining 19 windows! Now all we need is 12 sets of the glass inserts, and we're rain-proof.
We also funded the 3rd classroom's desks! The order went in for those yesterday, so we'll be installing them in a week or so. Then on to classroom #4.
This is HUGE for the incredibly poor village of Rwakobo – who didn't have a school EVER until Wells of Hope opened in 2019. (And then closed for 2 years thanks to government pandemic policies.) Gideon and everyone out there is amazed by the generosity shown to their little school, and we really are so grateful.
And y'all – it's only October 4th!
Thank you so much for following along with us on this great journey.
Webele nyo!
Jennings
PS We are planning our holiday cards EARLY this year! (I know, it's a shock!) If we don't have your physical address, we'd love to add you to our mailing list so you can get the occasional greeting from Ten Eighteen. Just hit Reply – we won't share, spam, or visit, we promise!